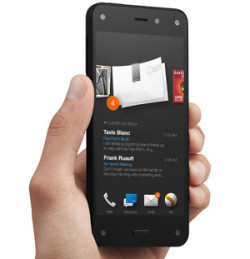 Earlier today, the long expected Amazon phone was unveiled to the world by Jeff Bezos. There isn't much a company entering the smartphone market can do to shine strictly from hardware. So, Amazon, being as smart as they are, mostly let software design and unique functionality do most of the grunt work.
You can check out the list of hardware and software specs, but at the end of the day, it's what the Fire Phone does that no other phone does today. Dynamic Perspective, Firefly technology, and Mayday.
Dynamic Perspective utilizes the phone's sensors to provide abilities like "peek" where you reveal bits of information on the screen only as you need it, keeping things uncluttered and out of the way. You can also tilt and swivel your phone for shortcuts and actions like attaching photos, revealing menus, toggling the flashlight, and even calling for live help when you're stuck. More after the jump...
Gestures are utilized more with the Fire Phone than even Samsung's gesture controls. It also has 4 infrared so it'll be able to see your face even in the dark. Amazon always wants to see your face, it wants to learn your ways.
If you're familiar with Google Goggles, well, Amazon took the idea and out-Googled Google. They call it Firefly.
Quickly identify printed web and email addresses, phone numbers, QR and bar codes, plus over 100 million items, including movies, TV episodes, songs, and products—simply press and hold the dedicated Firefly button to discover useful information and take action in seconds.
Pretty much any product you scan, will be buyable through Amazon.com. Do you know what that means? Do you realize the potential? With this device, Amazon has direct access to your cash, as if 1-Click ordering wasn't direct enough! To make it all acceptable, Amazon played it smart...
You're presented with a beautifully and intelligently designed interface to scan your life away, while consuming all that Amazon has to offer. Not to mention that when you buy this phone, you get a 1 year membership to Amazon Prime that comes with Prime Music, Prime Instant Video, and more. We're all familiar with the Apple and Google ecosystems, but now there's a new kid on the block. AMAZON! Surprised? Neither am I.
Possible pitfalls? Amazon's Android fork called as Fire OS is so far from the original fork, it doesn't have access to the Google Play Store. Amazon, however, has their own Amazon Appstore. A whole new ecosystem, a whole new store, a whole new platform that developers will have to start supporting.
How long will it take for the Fire Phone to gain enough traction for developers/startups/etc. to start taking it seriously?
The umbrella question is, who's the demographic that will make or break Amazon's new platform? Outside of the Amazon atmosphere that many millions already use, trust, and depend on, how many new customers and switchers will the Fire Phone attract?
I'd love to be a customer, I'm well invested into Amazon anyway, but I'm predominantly an iOS user, and I recently bought a Moto E to become even more familiar with the Android world. Here's one BIG REALITY: Android 4.4 KitKat and iOS 8 are finally pretty much neck-to-neck as far as maturity, ecosystems, and many critical features.
Fire OS will likely be missing A LOT of the critical features that hundreds of millions of Android and iOS users are accustomed to. Since they will likely not jump ship to the Fire Phone, who will feed the fire?