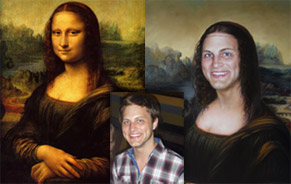 It's been a long time since I've come across an idea as unique as this one. 18th.me is, to put it simply, a custom painting service. Select a painting out of the "collection," send in a photo, and receive a hand-painted picture with your face instead of... Napoleon Bonapart's.
No more searching for original ideas for gifts – this is pretty much it. As the 18th.me website states, whether you're looking for a conversation piece or a house warming gift, a custom painting of 'Mona Lisa' or 'American Gothic' with your buddies' faces will certainly surprise.
More recently, an option to buy prints instead of an oil painting was introduced for an even more affordable price tag. Of course, they're not as impressive as an actual painting, but definitely a solid alternative.
So, head over to http://18th.me/, check out the collection, and start planning birthday presents!