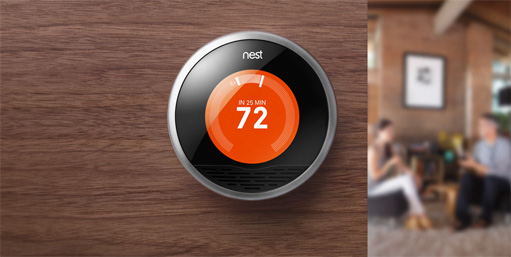 Let's face it, thermostats suck, and the guys at Nest saw a brilliant opportunity to create the perfect solution. "The Learning Thermostat" is functional, useful, time saving, green, economical, super cool, and last but not least, beautiful! There isn't a single sane person who would refuse to install this in their home.
Nest is led by two former members of the iPod division at Apple; Tony Fadell, who served as SVP, and Matt Rogers who served as lead engineer . The influence of the rich "click wheel" history of the iPod is comfortably evident. The elegance and minimalism of both the hardware and the interface makes it desirable to use, while saving money!
Yes, it looks gorgeous and easy to use, but what makes Nest THAT much cooler? Read more after the jump...
Programs itself. "Nest programs itself based on the temperatures you set. Nest learns your personal schedule in a week and starts automatically turning down heating or cooling when you're away to save energy. Nest will keep refining its schedule over time."

Loaded with sensors. Its 150° activity sensor detect when you're approaching, as well as when you've left the house to set itself to Auto-Away (energy saving!). Walking up to it lights up the display, and if it's dark, it won't blind you. It even uses WiFi to monitor outside weather and how it affects your energy consumption.
Connected. With your Nest.com account, you can log in to remotely control temperatures, adjust schedules, and check weather. Software updates are done automatically through WiFi so you'll always be up to date. There's an iPhone app, too!
Energy History. Monitor how much energy and money you save, your usage patterns and how the weather and Auto-Away have affected everything.
What's in the box? Nest display, base, screws and screwdriver, Optional Mounting Kit, Start Here guide and Installation guide.
At $249, it's a steal when you consider the amount of money you could be saving annually (up to 50%). Watch the video below to learn more about the Nest Learning Thermostat. This is going to spark a new home electronics trend.
If Apple was in the home appliances market, this is pretty much what it would be like. After all, what can you expect from a company running on Apple DNA? I am confident that after the Nest is a huge hit, they will slowly expand into other areas of the home.
What could possibly be next? Tell me in the comments below. You know you want to!
Click here to learn everything about Nest Learning Thermostat.