About 2 years ago, I blogged about Penzu, a web-based private journal and diary. Today, Penzu is alive and well, and better than ever! Recently, a mobile web version was unveiled (pro accounts), compatible with iPhone, iPad, Android, and Blackberry. This is HUGE for Penzu, because now users have a dedicated interface for an optimal journaling experience. It even uses the latest HTML5 techniques that allows you to access and write entries when you're offline.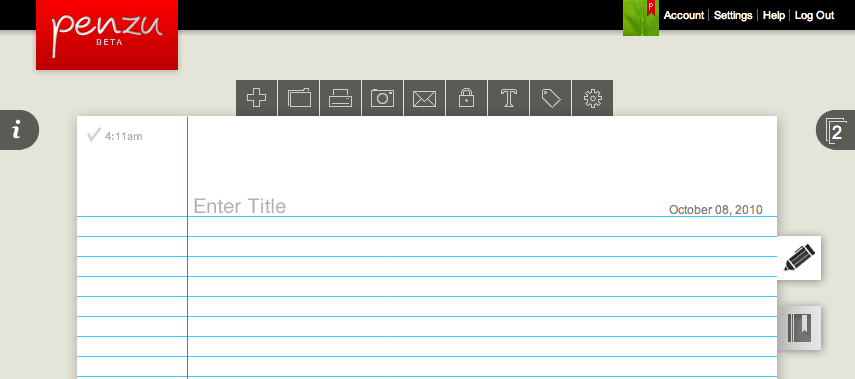 What is Penzu? A quick overview.
It is an online private journal and diary. Every entry is private by default, and not viewable publicly unless you specify. Entries are auto-saved as you write so you don't have to. You can upload photos from your computer, or insert them directly from Flickr. If for some reason you want hard copies of your entries, you can print them out, too. More after the jump...

For the passionate writers.
There are many cool features available with the Pro account; exporting entries to PDF and TXT files, tagging entries, and best of all, the mobile interface support. If you're serious about journaling, the $19/year Pro account fee shouldn't be a big deal. Penzu's "why" page points out a lot of positives about keeping a diary/journal, which you should definitely check out.
The interface.
As Penzu evolved throughout the last couple of years, the design hasn't changed much. You still have the ruled looseleaf writing area, entries browser, and a set of buttons above the looseleaf for printing, sharing, inserting photos, and so forth. Virtually no learning curve. Check out Penzu.com.