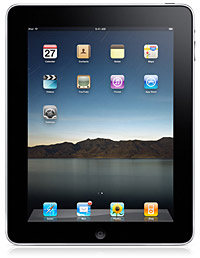 Check out Part 1 of this article if you haven't already.
Lack of Multi-tasking(?)
While the iPad can't run multiple apps, you can certainly enjoy the ability to switch seamlessly between applications. It's not often you need something running in the background, unless it's Pandora radio being streamed at all times (which can't be done to begin with due to lack of Flash support).
If you can achieve virtually anything without forcing apps to stay running in the background, then what's the point of having it? I would just be glad that I know it's better for my battery life. I honestly can't think of any real effects of not being able to run multiple apps simultaneously, so please enlighten me in the comments section.
The Price is Right
Starting at $499, one can't really complain that it doesn't do what a MacBook does. It's already cheaper than what everyone expected (which is good!). While the iPad physically resembles the iPod Touch, it's just not the same. It's not released yet, but the fact is that apps won't be designed the same way as regular iPhone/iPod Touch apps - they will be customized to take full advantage of the bigger screen and faster processor. This is a huge part of the whole "experience" of the iPad. Read on for more...