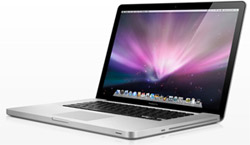 I intended to write about Apple going green when they launched the new Macs earlier this year, but I felt the urge to wait, and so I did. Apple has truly done it this time with their entire line of MacBook Pros and the iPhone 3GS.
The MacBook Pros are the greenest Macs Apple has yet to deliver. All models of the machine (13, 15, and 17 inch) are EPEAT Gold rated and meet the Energy Star 5.0 requirements, which isn't even out yet. This makes the machines consume less electricity, and easier on the environment.
Speaking of the environment, both the MacBook Pros and the iPhone 3GS are made mostly out of earth-friendly materials, which are also easily recyclable.
Highly recyclable aluminum and glass enclosure
Mercury-free LED-backlit display
Arsenic-free display glass
BFR-free
PVC-free internal cables
The iPhone 3GS shares a lot of these features as well. All of Apple's products ship inside of much smaller packaging which is great for several reasons: Easier to ship more units per airplane, easier to carry, easier to store, less garbage in the dumps. Everyone wins.
It would be amazing to see companies utilize more environmentally friendly materials. This is a great start, and I am glad that Apple is trying to pioneer being fully green, or as green as they can be. Which other companies, other than the ones that specialize in green tech, actually manufacture products of similar nature? Post in comments below, please. 🙂
I predict that some day, we will have a way to teleport technology we buy straight to our homes. No jetplane delivery, no fumes, no packaging garbage.