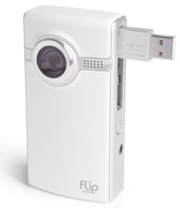 I have been using the Flip Video Ultra for about 2 weeks now and I only have positive things to report. This device has turned into something I take with me everywhere I go, just like my cellphone and keys. I've been able to capture rare moments with friends and family, as well as events such as the July 4th fireworks.
There aren't many cameras that are targeted for the general consumer, but the Flip Video Ultra looks like it's the one to beat.
Continue reading after the jump for the entire review!
Performance: For a camera that retails at $150, you can't possibly ask for more (yet, at least). In daylight and standard lighting conditions, the quality of the video is great as 640x480 screen resolution. At night you will see some noise in the videos but it's definitely bearable and the videos still look great. A lot of people boast about the good low-light performance and I can definitely vouch for that.
I have used the Flip Video Ultra for a couple of weeks in nearly every type of lighting condition and it has not let me down. One thing I will point out that may not be a big deal to the general consumers is the panning distortion. Cameras that have CMOS sensors like the Flip Video generally have a wavy distortion when panning quickly.
The audio/microphone is improved from the previous version of the Flip Video. Now, it's not the best audio in the world but it works fairly well in windy and noisy conditions. In terms of sensitivity, it may not be suitable in noise-polluted areas, but most of the time you'll be able to make out the dialogue (if any). The built in speaker during playback is not that great in loud areas, but it's fine in normal circumstances.
Features: The Flip Video is perfectly shaped to fit comfortably in your hand while recording or playing back video. It has a built in USB 2.0 plug that flips out when you pull down on the latch and hides away seamlessly after using it. The 1.5" screen is big and bright enough for all sorts of lighting conditions. The Flip Ultra is available in 1GB and 2GB versions recording 30 minutes and 1 hour of video, respectively.
Lasting Appeal: I purchased this camera knowing that I couldn't expand the storage capacity. It doesn't bother me since 1 hour is enough for me on a daily basis. This is definitely not a camera to rely on for a family vacation, but instead, it's something you can carry with you everywhere you go to capture the rarest and most random moments in life.
Living in New York, catching a bum urinating on the steps of a church might not be amusing, but how often to do you see something like that? I carry my Flip Video everywhere I go, and have been doing so for the past 3 weeks. It seems to be pretty popular as I've gotten a lot of attention for carrying it around with the wrist strap.
Bonus: The Flip comes with pre-installed software for Macs and Windows that allows you to do some minor editing and compressing. It records videos as .avi files but the software can convert it to mpeg4. With the software, you can also upload your content to online video sharing sites such as YouTube.
If you have a tripod, you can mount your Flip on it for those steady shots. It runs on 2 AA batteries which last for a pretty long time depending on use. I was able to go 1 week with about 5 hours of combined use (recording/playback/transfering data/viewing on TV).
For more info and tech specs on the Flip Ultra, visit the official website over at TheFlip.com. I'll be uploading some videos I captured using the Flip to share with you all. If you have any questions, ask away and I'd be glad to answer them as well as I can.
Frequently Asked Questions:
• Can it be used as a storage device? Yes. Just plug it in and off you go!
• Does it require a codec? For the raw .Avi files, yes. It comes with drivers for for Mac & Windows.
• Can I edit content using different software? Yes. Use this program to encode videos on Macs. (If you know of a Windows equivalent, please link to it in the comments below)
• It looks cheap, why should I get it? Go to a BestBuy or CircuitCity and see for yourself.