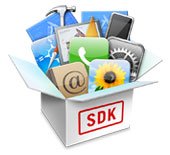 We're days away from this year's Worldwide Developer's Conference and the hype is getting hotter by the minute! Lifehacker has reported that location-aware applications will be changing our lives, while rumors have it that "Snow Leopard" (OS X 10.6) will be announced. We have already seen a million iPhone 3G mockups and "leaked" shots. Now we have to see what Apple's really got hidden up their sleeves.
Geo-location Photo Tagging:
Having this feature on the iPhone would be pretty handy in my case. I use the iPhone camera all the time, and it would be cool to have location tagged photos. Some people aren't too crazy about this feature since the 2MP camera doesn't take pics that are worth tagging. Also: If cell tower triangulation is used for every picture taken, how will that effect battery life?
This, of course, is just one of the many highly anticipated features expected to be a part of the iPhone 2.0 update and iPhone 3G. We've seen some pretty awesome developments at the iPhone Software Roadmap conference back in March. I am anticipating a lot of things to be fixed and updated, as well as a plethora of applications including games, productivity tools, and more.