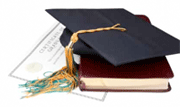 There are lots of advantages of going to college and getting your bachelor's degree. With the amount of online success stories building up these days, some might think that it's an easy path and skipping college is okay. Going to college has its advantages and the positive factors beat out the negatives any day.
More Money: There's a reason why I put this first. In this world, it takes a decent salary to live comfortably. Anyone can get a job paying just enough to support yourself in a tiny mousehole apartment. Having a college degree opens more opportunities to higher paying jobs, even if your field has nothing to do with what you're applying for.For example: If you have a degree in Philosophy and you've always had a thing for finance, who do you think will get the job when applying, person A or B? A) Somebody who doesn't have a degree and loves finance but has nothing to prove his worthiness or, B) somebody with a college degree who has demonstrated that he/she has devoted time and effort to successfully achieve a goal.
Increased Knowledge & Skill set: College is a period of communication and interactivity with your professors and classmates. The skills you can learn such as a writing efficiently, speaking and presentation skills are vital for career success of any kind. Whether you choose to attend a 2 or 4 year program, you will learn how the real world works. Professors and students share experiences that will sometimes put an end to things you've always wondered about. Professors are there to help - it's their job! Most professors find it self-fulfilling when they truly help a student understand and achieve something great. You don't have to spend a fortune to get a quality education. Little things that are learned during the college experience is what helps people get through certain steps in life. Continue for more...