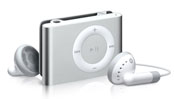 After an unreasonably long wait (about 1.5 weeks), my silver iPod Shuffle finally arrived and I love it! I've heard so many great stories about it and its awesome audio quality and tiny form factor. I primarily bought this for the gym but I know I'd be carrying it around anyway, albeit having an iPhone.
The battery life on this little thing is great, and the built in clip is probably the best feature of it - other than playing music and sounding great. I thought that I'd fuss over the lack of an LCD screen, but I realized how much I don't even care. The only songs that go on here are the ones that I'd listen to all the time, and not have to nitpick to find a song that I like. I didn't believe it when I read that the shuffle had a better bass response than the other iPods up until now. That's a nice one-up for me.
I have yet to have any problems with the 12 hour battery life, and the 1GB storage capacity is more than enough to last me through many hours at the gym. I was strongly leaning towards an iPod Nano but I decided that I didn't need the screen, and I didn't have the nerve to buy extra accessories to strap it onto my arm, or whatever. iPod Nano Arm Band = Not so awesome. iPod Shuffle Clip = Awesome!