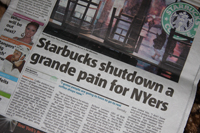 Well, it doesn't exactly "destroy" lives, but definitely causes an inconvenience. Thinking about it, living in New York, there are more Starbucks locations than many other store chains (McDonald's?). I read an article yesterday in the Metro newspaper (cover story) of how Starbucks closed down nearly 7,100 of its U.S. stores for 3 and a half hours to "retrain" its employees.
So, yea, the article expressed how caffeine addicts get annoyed at things like this, but still "life goes on." I guess that means Starbucks hasn't exactly brainwashed its customers to absolute loyalty. Other coffee shops stayed open during that time, and places like Dunkin Donuts and such received a nice rush of customers - for 3.5 hours at least. People are saying that this was more of a marketing act rather than an actual attempt to jump the customer service and satisfaction by making the best espresso you've ever tasted in your life.
I do believe that what Starbucks did was definitely good since it boosts the excitement of its employees, and reassures customers that their coffee will be done just right. I've been to enough meetings and gatherings in the retail world to know about these kinds of things. I don't think a huge corporate like Starbucks would risk losing an ounce of business for 3.5 hours, especially with over 7 thousand stores!
"Starbucks is losing ground every minute of the day. Now they're just another store -- they're like the GAP of coffee. By closing their stores, they're trying to say, 'We're restarting!' But there's got to be a better way than that" says CEO of R.I.M Public Relations, Richard Laermer. I still like my Vanilla Bean Frapuccino, so as long as that's around, they've got my business.