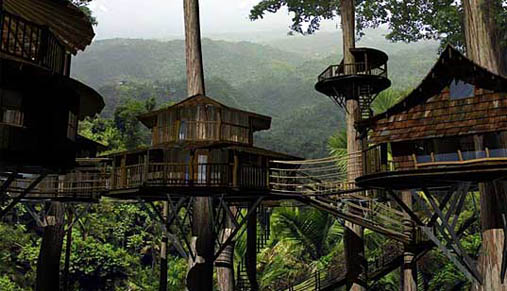 With today's world going super hi-tech and technological, it's good to see that nature-dwellers and adventure seekers are still out there! A recent article on Inhabitat.com talked about FINCA BELLAVISTA, a sustainable rainforest community preserving around 300 acres of rainforest. What's more perfect than this for those individuals who are ecologically minded that love to live in sustainable environments?
So yea, these guys have a pretty neat sustainable energy use going on by using natural sources of energy, hydroelectric and solar power being some of them. Building a house here requires you to have a few things that aren't really optional like a system to capture rainwater, and a system to manage human waste. There's a power grid system that delivers energy to these houses through underground cables and such, virtually eliminating all electric costs for citizens of FINCA BELLAVISTA. Now you've probably got a few questions in your head. More after the jump...
How much will it cost? What about all the bugs and wildlife issues while living? Where is this located? Will I have an internet connection? How will I communicate with other residents? Rest assured, it's not all as bad as it seems.
Building a home can be as cheap as $10,000, and can go up to $25-50K to live comfortably - although, your budget is your limit so if you're loaded with cash and want to build a rainforest mansion, I doubt anyone would hold you back. This place is located in the South Pacific Coast of Costa Rica, on the base of a near 6,000 foot rainforest mountain. It's also not far from the Pan American Highway, so if you wanna run home, you can get your head start there.
There's currently no cellphone coverage (gasp!) in this area, but at the base of the community, you can get a pretty fast WiFi connection that'll allow you do the things you do online, making Skype calls, and all that good stuff.
One cool thing about the way FINCA BELLAVISTA neighbors can get together for tea and such is the Zip Line system! Go from one place to another in no time, and enjoy spending joyous times all in the wilderness of the Rainforest.
Also, if you're afraid of bugs, this probably isn't the place for you, although these homes are probably built well enough to guard out all the little things that could fly in and scare the living daylights out of you. So if you haven't already checked out their website (which isn't all that good), go now! www.fincabellavista.net