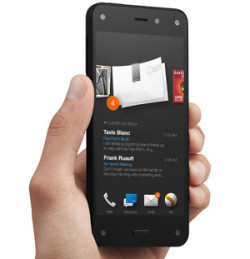 Earlier today, the long expected Amazon phone was unveiled to the world by Jeff Bezos. There isn't much a company entering the smartphone market can do to shine strictly from hardware. So, Amazon, being as smart as they are, mostly let software design and unique functionality do most of the grunt work.
You can check out the list of hardware and software specs, but at the end of the day, it's what the Fire Phone does that no other phone does today. Dynamic Perspective, Firefly technology, and Mayday.
Dynamic Perspective utilizes the phone's sensors to provide abilities like "peek" where you reveal bits of information on the screen only as you need it, keeping things uncluttered and out of the way. You can also tilt and swivel your phone for shortcuts and actions like attaching photos, revealing menus, toggling the flashlight, and even calling for live help when you're stuck. More after the jump...